Durga puja dates in 2019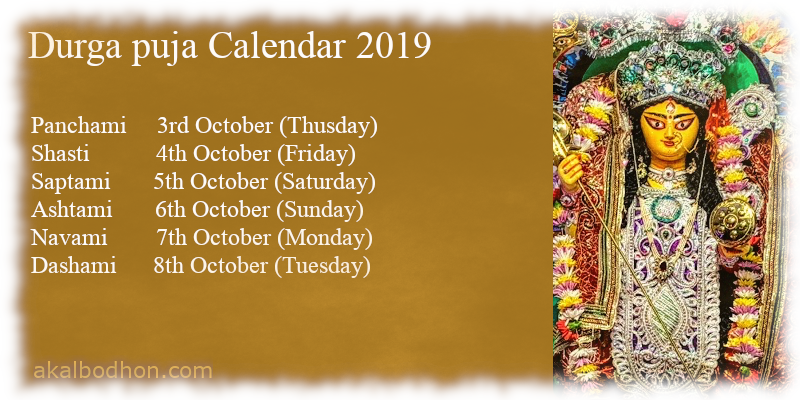 Durga puja is a mega event, it is celebrated across several days. Most importantaly it starts from Mahalaya and ends with Dashami (bisarjan)
Mahalaya
Goddess Durga is invited to come to Earth on this day. And this is the begining of the mega occasion. Mahalaya has other signicance also.
Panchami
This day the marks the begining of the Durgapuja, all the pendals are ready by this day.
Shashti
Shashti is when Goddess Durga descends to earth with her four children Lakshmi, Saraswati, Kartikeya and Ganesh.
Saptami
Saptami is the first day of the durga puja.
Ashtami
Ashtami Puja day is the most significant day of the celebration.
Navami
Maha Navami or Navami is 2nd last day of the celebration. Goddess Durga is believed to have killed demon Mahishasura on this day.
Dashami
Dashami or Vijaya Dashami is the last day of the durga puja. This day Goddess Durga returns to her husband's abode and the idols are taken for immersion.